How Window Film UV Blocking Prevents Fading of Floors, Furniture, and Art in Your Fort Worth Home
In our sunshine soaked city of Fort Worth, many homeowners find themselves facing the issue of damage caused to their home's interiors by UV rays entering through windows, causing fading in their home and on their possessions. Fortunately, UV blocking window film can protect Fort Worth homes from the brunt of fading.
Using UV Blocking Window Film to Preserve Your Fort Worth Residence
Oftentimes, homeowners may turn to window treatments as a way to fight the damages of fading in their homes, but 85 percent UV protection simply isn't enough. Instead, UV blocking window film provides Fort Worth homeowners with more noticeable results.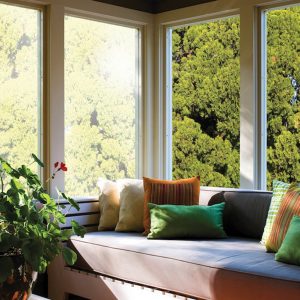 House Damages Caused by Light and UV Rays
All forms of visible light cause problematic fading in our houses. UVA and UVB rays are estimated to cause 45 percent of fading damage, while visible light and heat or infrared radiation split the difference. This means that any spot in the house that's illuminated by a window–as well as the art, furnishings, and other belongings in it–are exposed to damaging rays that cause fading.
How UV Blocking Window Film can Help Fort Worth Homeowners
Installing certain brands of UV blocking window film prevents Fort Worth homes from experiencing as much as 99.9 percent of harmful rays and upwards of 50 to 87 percent of glare from the sun. Examples of this revolutionary technology can be purchased through 3M, Lumor, and Vista, available through your local window film professionals.
Give Your Home the Protection It Needs with Window Film from Fort Worth Window Film
We provide a wide range of window film for our Fort Worth customers, adaptable to residential, commercial, and public spaces. Contact our office today to learn more!