Add more privacy to your home
With the installation of a privacy window film, Fort Worth homeowners can have . . . well, you guessed it. More privacy! We are talking about privacy in their windows and doors. We cannot help you with your internet privacy or the kind you lose if the NSA is watching you.
But our clients like to feel like they are the kings of their castles. They like the idea that they have privacy in their own homes. And we don't blame them. With privacy window film, Fort Worth homes get that privacy in a variety of interesting, attractive ways.
We offer a full line of privacy window films to Fort Worth and other area residents. There are a few places in a home where our clients want more privacy than they originally had. The first one would be the home's entryway. You know that anyone coming up to your front door can see inside your home via the entryway's sidelights, those narrow vertical windows on one or both sides of the front door.
Some of our clients have solved this particular privacy problem by hanging paper or a piece of cloth over those windows, but they are the first to admit that it doesn't look very good. With privacy window film, Fort Worth homeowners have the opportunity to add a product that makes those windows look just like frosted glass, patterned or colored glass, even stained glass – but for a fraction of the price any of those new types of glass might cost them. And not only will their privacy be enhanced, their entryways will look more expensive and more exclusive at the same time.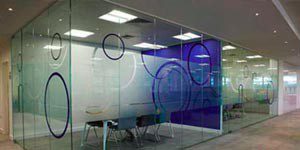 (Of course, some of our Fort Worth clients do opt for real stained glass in their sidelights, using our sister company Fort Worth Stained Glass. Click here to see some of the stained glass sidelights we have custom designed for clients.)
Let's talk about the bathroom. Can you think of any other room in a home where you want more privacy? And yet, for some reason, many bathroom windows, shower doors, or entire shower enclosures are made of plain old, not very private clear glass. Where's the privacy? So bathroom windows and shower enclosures are another perfect place to add privacy window film, Fort Worth!
We have a full line of privacy window film products, including decorative ones and a product that has a mirrored finish on the exterior. Here at Fort Worth Window Film, we also offer window film products for energy savings, loss prevention, and more.
For more information or a quote for privacy window film, Fort Worth or any of the nearby areas, please contact us today.