Ways that Decorative & Branding Window Film Can Enhance Your Fort Worth Office
We're taught that appearances aren't everything. But in the business world, appearances are quite important. How your office looks is almost equally as important as how it functions because it's a major part of what determines the type of impression your clients get about your business.
Think about it this way. Imagine that you walk into a new clothing store on the day of the grand opening. You've been excited about this new store for months and have been counting down the days. After all, you've heard great things from your friends. But then you look around and the place is a disaster. There's clothes everywhere all over the floor, the racks are disorganized, and no staff is in sight. What are you going to do? You're going to take your business elsewhere of course.
The same idea can be applied to an office space. Your office should look clean, organized, and professional at all times. You have to earn the trust of your clients and creating a space that looks professional is important for being able to accomplish the task. In this article, we'll discuss the various ways that you can incorporate decorative and branding window film into your Fort Worth office to make it more appealing and professional looking.
Ways to Use Decorative Window Film in Your Office
There are many different ways that you can use decorative and branding window film in your office. Some places that you may want to consider are conference rooms, entries, restrooms, and glass wall separators. However, lobby areas, locker rooms, and personal offices are also a great choice for decorative window film as well.
Conference rooms – Decorative window film is great for adding privacy to conference rooms since these areas usually require a certain level of seclusion. The film reduces visibility, creating a more comfortable feeling, without closing off the area completely like blinds or shades would.
Office doors & entrances – By adding decorative film to your office entrance, you can impress your clients right from the start. A splash of color and a subtle decorative design goes a long way to enhance the look of a place. You may even want to consider adding your business name or logo to the film in this area.
Glass wall separators – You can also use decorative window film in lieu of frosted or custom glass. Simply install the film on existing glass partitions to create privacy or add style to your office.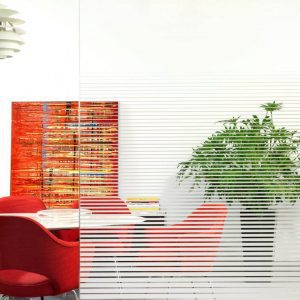 Benefits of Decorative Window Film
Installing decorative window film for your office can be beneficial for many reasons. For one, decorative window film is a simple, low cost renovation. Additionally, it gives you the ability to really customize your office. Decorative film can be installed on almost any flat surface, including normal walls and table tops as well.
Get a Quote on Decorative & Branding Window Film
Start planning your office renovations today. Call Fort Worth Window Film to get an estimate on decorative window film for your Fort Worth office or commercial space.