How Metal Shield Can Save Your Fort Worth Property Management Company Money when Dealing with Scratched Metal Graffiti
As a property manager, you have to make sure that your multi-tasking and interpersonal skills are on point every day. From tenant complaints to maintenance issues, you have to juggle a variety of tasks that would give the average person a severe headache.
Graffiti, a Property Manager's Worst Nightmare
When someone reports that they've found graffiti or vandalism on your property, your day gets even more complicated. Let's face it; these repairs are way too expensive but the graffiti isn't taken care of, it can seriously affect your ability to rent out available homes or units.
Metal Shield, an Economical Solution for Fort Worth Property Managers
However, when it comes to dealing with graffiti, it looks like the job of being a property manager may have recently gotten a little bit easier. A new, innovative product called Metal Shield is available from a smart-thinking company, Graffiti Shield. In recent years Metal Shield has been able to save Fort Worth property managers hundreds of dollars on repair and replacement costs associated with scratched metal graffiti.
What is Metal Shield?
Metal Shield is a highly durable, protective film that's applied to aluminum, metal, and stainless steel surfaces to cover up and protect against graffiti. It can be adhered to a wide variety of metal surfaces and prevents against acid etching, scratching, corrosion, and abrasives. If the surface becomes tagged or vandalized in the future, Metal Shield will protect the underlying metal and it can be easily removed and replaced for a continued pristine appearance.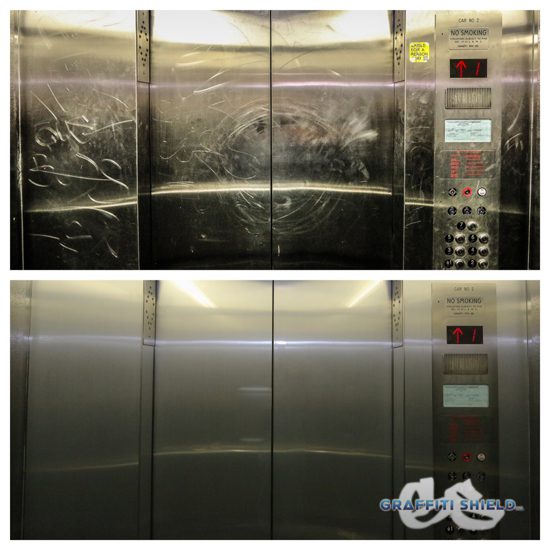 Applications for Metal Shield
Replacing damaged metal surfaces in your property can be an extremely expensive ordeal. Metal Shield works to mitigate costs associated with vandalism and graffiti and is also a more environmentally friendly alternative. You can apply Metal Shield to a variety of surfaces in your Fort Worth residential property, including:
Elevators
Signs
Doors
Stair rails
Appliances
Mail boxes
Parking garage
Protect Your Property from Vandalism
Whether you rent out a single home or manage several multi-resident units, you can benefit from Metal Shield. Call Fort Worth Window Film today to protect your residential building from vandalism.