Protect your building from disaster
In Fort Worth, bomb blast film is not something on the mind of every business owner, nor should it be. But for certain kinds of businesses and government installations, this window film could be a true life saver.
Were you aware that in the case of an explosion, the glass in a building's windows is shattered and literally turned into deadly projectiles? Many of the fatalities involved in a bomb blast or other explosion come from this deadly flying glass. But for businesses and government facilities in Fort Worth, bomb blast film provides an affordable and practical solution.
Let's look at laboratories doing experiments which have the potential for explosions. They are a perfect candidates for bomb blast window film. Government buildings of all kinds, which might become targets of terrorists, are also excellent candidates for bomb blast film. And businesses that work with the government in any capacity, but especially weapons creation and intelligence, would also be the type of businesses in Fort Worth that bomb blast film would be appropriate for.
For these businesses in Fort Worth, bomb blast film is quickly installed and provides incredible security and peace of mind. In the unfortunate case of an explosion, either internal or external, the window panes will be held in place right in their frames. There will be no flying glass, no shards everywhere, no casualties caused by glass "missiles" coming at soft flesh out of nowhere before the people in the vicinity even have the chance to know what hit them.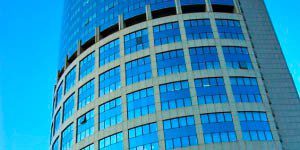 In Fort Worth, bomb blast film might seem an unnecessary precaution. After all, this is not a high target city for terrorism. But if there is any chance that such a simple solution could save lives in awful and unexpected circumstances, perhaps it is worth checking into!
Fort Worth Window Film is proud to offer the highest quality bomb blast window film on the market today created by the innovative industry leaders Llumar. You will not find a more reliable, better researched, or more effective product anywhere.
For more information in Fort Worth on bomb blast window film, we hope that you will contact us today using either the phone or our handy and convenient online web form. Fort Worth Window Film also offers a full line of other window film products, each one as high quality and high performance as the bomb blast film. They include energy efficiency window films that save businesses money on heating and cooling costs, loss prevention window films, privacy window films, anti graffiti window films, and decorative films and tints that add style, interest, texture, and more.