Increase productivity with office window film.
How can you increase office productivity with the installation of office window film, Fort Worth? That might sound like an outlandish claim. But the fact is, these days offices are filled with people working on computer screens. If there is any computer difficulty, you know how disruptive that is, how it knocks out office productivity until the issues are resolved.
We've heard from many of our customers that they never realized just how much productivity their workers were losing because they had difficulty seeing the screens because of glare. Many offices install darkening shades to cut the glare, but that also creates a darker, somewhat depressing mood in the office. With glare-reduction office window film, Fort Worth offices can leave the shades up and yet allow staff to easily work on their computers.
We all know how frustrating and annoying it is to not be able to see our television or read the screen on our phones. Glare has become an increasing annoyance as we've gotten more and more attached to technology of all sorts. In certain offices, this glare problem can also cut down productivity by giving workers eyes strain, headaches, and just putting them into a foul mood.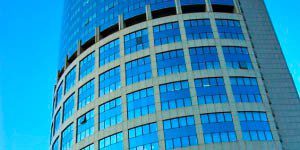 So is glare reduction office window film Fort Worth's answer? We believe it is and we'll tell you why. For starters, this product is installed to the inside of your windows and requires no maintenance at all, unlike those pesky computers. It can even enhance the optical quality of the glass, making a good view even nicer. It allows office workers to see their computer screens at any hour of the day, giving them no reason to wander away from their desks and congregate at the water cooler.
And, depending on the type of office window film Fort Worth businesses choose, it can have a couple of other intriguing benefits as well. How about saving money on heating and cooling costs, by making the windows more thermally efficient? One of our energy efficiency office window films that also cuts glare can give you both benefits.
There's a third benefit to office window film Fort Worth business owners are taking note of, and that is the UV protection it offers. Everyone knows that the sun's UV rays are damaging to skin, but did you know they are the main reason for the fading you'll find in your office furnishings, artworks, flooring, upholstered furniture? With the 99% UV block in glare reduction or energy efficiency office window film, Fort Worth clients will see their interiors stay new looking longer, which can save a lot of money on replacement furnishings over the years.
For more information on the benefits of office window film, Fort Worth or any outlying areas, please contact us today.