How Bomb Blast Protection Window Film Can Make Your Fort Worth Property More Secure
We live in unpredictable times. It seems like these days disasters are occurring at a greater frequency. From massive hurricanes sweeping across the southern states, putting entire cities underwater to shootings at public schools, our country has seen numerous disasters this year. If these matters have taught us anything, it's that life is indeed unpredictable and that as a country, we need to be proactive about matters involving public safety.
While there's no way to foretell or even prevent many of these situations, we can still prepare for them. One of the best ways that you can make your property safe and secure for everyone is by installing bomb blast protection film. Bomb blast protection window film provides Fort Worth property owners with a way to make their building more secure and reduce the risk of injury and damage during emergency hazards.
All You Need to Know About Bomb Blast Protection Film
Bomb blast protection window film is a highly specialized type of security window film. The film is usually stacked in layers and combined with an attachment system, be it an impact protection system or a security window film bonding agent. The film is designed to increase the flexibility of glass and reduce the level of impact from blasts and other harsh forces of contact.
Bomb blast protection films are typically stronger than the average security window film. Most security window films are created for the sole purpose of break in protection. But bomb blast window films are a little more advanced and are created with better materials. These films sometimes take longer to install, depending on the priming agent being used.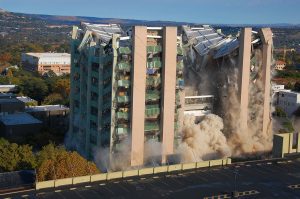 How Bomb Blast Window Film Can Make Your Property Safer
The major advantage of installing bomb blast window film is that it can help protect your property in the event of a serious emergency like a terrorist attack or shooting. While the film does not deflect blasts entirely in all cases, it has been shown to reduce the level of impact. Additionally, it also helps retain broken glass fragments, which helps prevent occupants within a building from being wounded. In addition to this enhanced protection, bomb blast window films also provide all the major benefits of traditional security film, such as theft prevention, uv protection, etc.
Learn More About Bomb Blast Window Film
Schedule your free security consultation to learn more about bomb blast window film. Call Fort Worth Window Film today to book your appointment.