Gain privacy with window film
Have you heard of privacy window film, Fort Worth? Yes, we are talking about a product that can be installed to the interior of your windows, doors, even any glass partitions or glass walls, that will give you instant privacy.
This product is perfect for the entryway windows of a home, the front windows of a ground floor inner city apartment, the windows of a high end supper club, the glass walls of a lobby floor office, the glass partitions in a large office space, even the glass of a shower stall if it isn't already frosted.
With the installation of privacy window film, Fort Worth residents have an affordable solution to window privacy issues, wherever they live or work. There are various types of privacy film to choose from as well. We have kinds that look like frosted or etched glass. We have privacy film with a mirrored exterior, kind of like mirrored sunglasses, which gives a building a chic, modern appearance from the outside but does not hinder the view from the interior.
We even have a full line of decorative window films in colors and patterns which can also add privacy. Privacy window film, Fort Worth residents are discovering, is a more interesting and more modern solution to problems that previously required shades or blinds to solve. It can add an instant upgrade in style, add color, a focal point, texture and interest to a room, depending upon which style is chosen.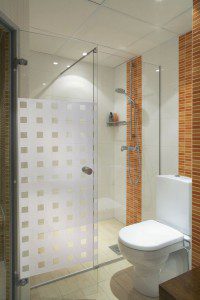 Why might you want privacy window film, Fort Worth? Do you dislike strangers being able to see in through your windows? Are you looking to add privacy to give clients, patrons or guests a more exclusive look and feel? Privacy is a large concern in this day and age. We can't do anything about your online privacy or any NSA snooping, but we can certainly help you have the physical privacy you need in your home, office, or other commercial space. And make it look great at the same time, all for a low cost and quick installation.
Here at Fort Worth Window Film, we have a decade of experience in all sorts of window films and their optimal installation, from privacy to decorative to energy saving to security window films and many others. Perhaps, along with your upgrade in privacy, you'd also like glare reduction or UV protection for your interiors? Whatever you are looking for, we are here to answer any questions, offer a quote for a window film job, or help you choose the most appropriate product for your needs.
For privacy window film, Fort Worth or any of the surrounding and outlying towns and suburbs, we hope you will contact us today.